Well two of the biggest games I couldn't wait to speak on are here! I'm ready for the festivities to begin. I know it's only both teams 2nd & 3rd games but this will tell you and me a lot about these teams. So let's get right to it.
OKCity vs. Memphis…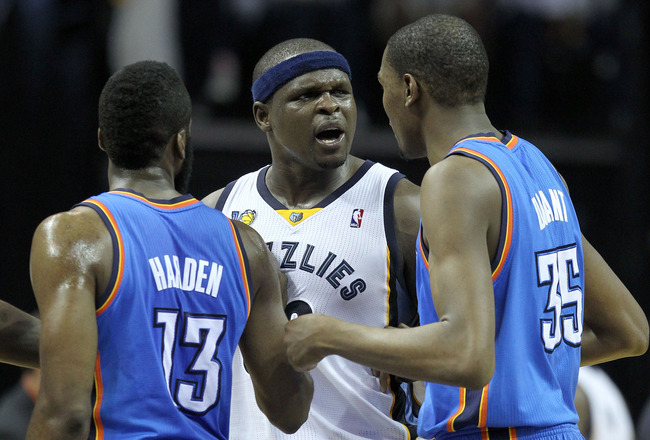 RUDY'S BACK!!! Memphis went a long way in last years playoff without their top player (or is he) Rudy Gay. Zach Randolph and Mark Gasol lead the way by abusing opponents in the paint on their way to a game 7 lost ,second round ending, to the Oklahoma City Thunder (This is revenge). Now with the addition of Rudy Gay, Memphis add another scoring attack to try to keep up with the leagues leading scorer the last two seasons Kevin Durant. If Memphis play like they played on Monday, they won't be able to handle Durant and the Thunder. A lot of people pick OKC as the front-runner in the West this year but I disagree. Reason being is that I don't think the team respect what Russell Westbrook does and brings to the table. No player in the league matches his effort night in and out. Check OKC's record when he plays and when he doesn't. I feel that there is still a division on that team when it comes to him and let's see what happens when it's re-up time. I don't think he'll sign back. Anyway… I like Memphis in this one. Hopefully they'll play better than they did last game and let rookie Josh Shelby loose. I want to see this kid go to work! he may be one of the steals of the draft.
Young vs. Seasoned…


The Clippers have already had a successful season, win or lose just by adding Caron Butler, Chauncey Billups and Chris Paul to a young and hungry team. Seats sold out, fools think that L.A. is theirs, (last time I checked, even when they are the home team, the seats are still purple), and they beat the Lakers in two pre-season games. Pre-season, we talking about pre-season. Oh well, Lob City as they are called, is probably the most exciting team in the league. But guess what? Again it's early in the season but this may be their biggest test to come. Against a mixture of young, along with some seasoned and savvy veterans, one thing for sure is that all five players on the Clippers have to play Defense tonight! The Clippers have a lot of scorers and shooters, but this one is going to have to be won in the paint. Chris Paul will have his hands full with Tony Parker, who's guarding Ginobili? Will Blake be able to take this one over and use his young athletic legs to beat the Spurs? Nope! Nope! Nope! Give me the fine wine. The OG's got this. People fail to realize that Chris Paul has to breast feed this whole team except Chauncey and Mo Williams. The Clippers need Blake to get a few go to post moves and someone who can slash and score off the dribble with size. Caron? Maybe, but we don't know how that knee feels. He's taking the easy route right now and spotting up and taking the easy creations of CP. Well let's see how those knees feel against Richard Jefferson and Ginobili.  Ginobili feels good right now and that's it, that's all, he's unstoppable! Only injuries can guard him.  Kawhi Leonard is the guy to watch when he's in for the Spurs. Good defender and competitor. Rookie with a  veterans mentality.